Prepare to embark on a journey into the future with the newly revamped 2024 Nissan Ariya Electric SUV. Pushing boundaries and reshaping the idea of electric vehicles (EVs), the Ariya is a testament of Nissan's dedication to innovation, sustainability, and state-of-the-art technology.
Design that Inspires
The Ariya is built on an all-new electric vehicle platform, purpose-built for electric power. Its sleek, aerodynamic shape captures a contemporary essence while staying true to Nissan's distinctive style. Following the design philosophy of "Timeless Japanese Futurism," drawing from Japanese aesthetics, it exudes strength through simplicity. Featuring slender LED headlamps composed of four 20-mm mini-projectors, a substantial "aerodynamic shield" replacing the conventional grille, and descending LED DRLs, the Ariya radiates an unmistakable air of refinement.
Electric Performance Redefined
Underneath its polished surface resides a powerful electric core. Tailored to cater to diverse preferences, the 2024 Nissan Ariya's specs accommodate each person's individual needs. The Venture+ model offers an impressive range of up to 304 miles on a single charge, allowing drivers to explore without boundaries. The base Engage trim offers slightly less range due to that model's smaller battery pack, which is rated for 216 miles per charge. Whether it's through the city streets or winding country roads, the 2024 Ariya's all-electric powertrain delivers a smooth and exhilarating driving experience.
Innovation at Your Fingertips
The 2024 Nissan Ariya's interior embodies spaciousness and contemporary style, featuring a minimalist design that merges sophistication with functionality. It incorporates a flat, lowered floor, creating a spacious feeling inside. Adorned with wood-trim elements and equipped with haptic buttons on the dashboard, the Ariya's interior indulges in premium materials and customizable ambient lighting, aiming to create a haven for both drivers and passengers.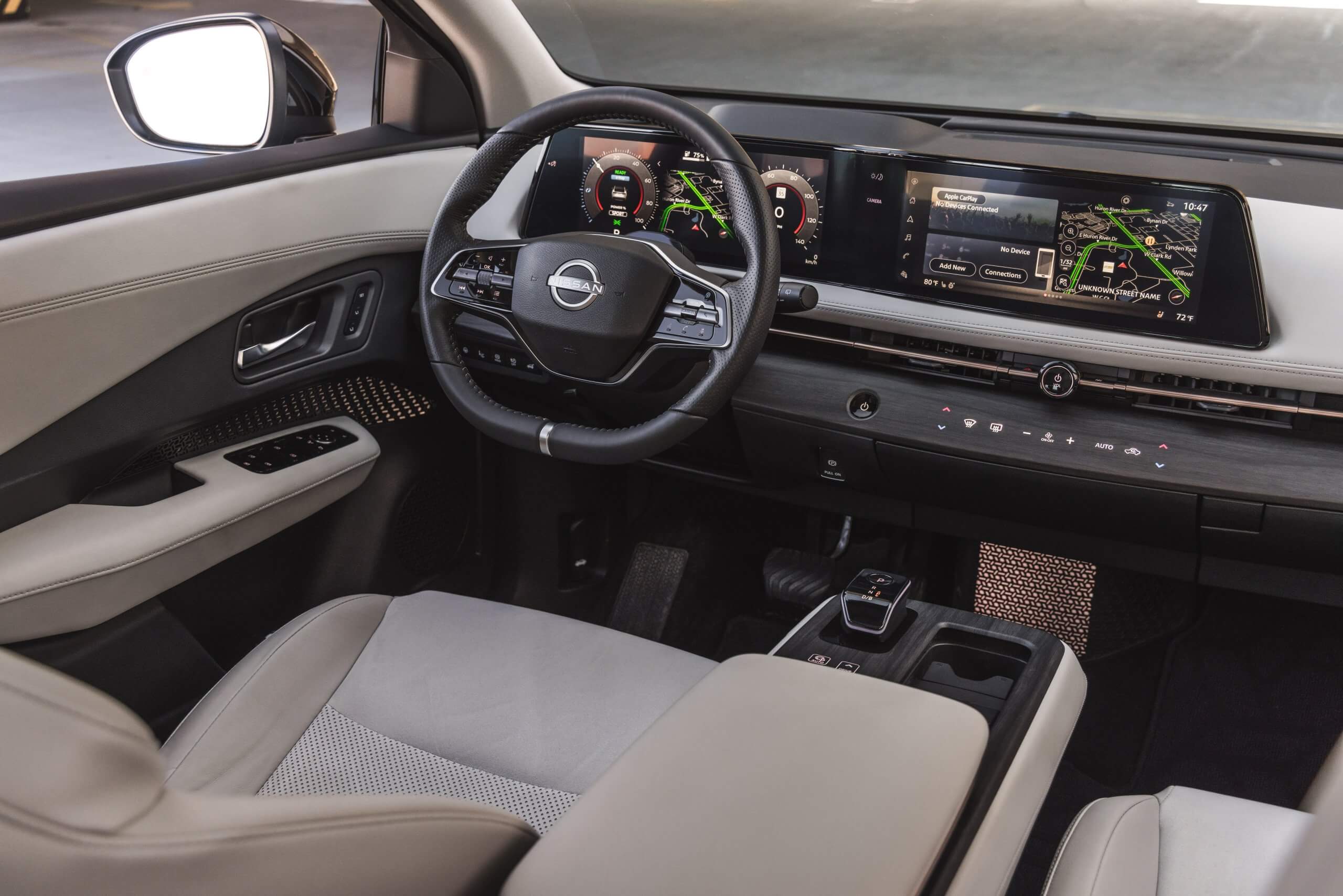 At the heart of the Ariya's interior lies its groundbreaking technology suite. The Nissan Intelligent Mobility system ensures seamless connectivity while on the move. A generously sized touchscreen display grants access to all vehicle functions, while a head-up display projects vital information onto the windshield. Meanwhile, the Bose Premium Audio System envelopes the cabin with top-notch sound quality. This user-friendly infotainment system seamlessly integrates entertainment, navigation, and vehicle controls for easy access.
Safety Meets Intelligence
Safety is an important aspect of the Ariya. It comes equipped with Nissan's ProPILOT Assist 2.0, a semi-autonomous driving system that aids in lane centering, maintaining a safe following distance from other vehicles, and navigating stop-and-go traffic. Additionally, the Ariya boasts Nissan's e-Pedal, enabling drivers to control acceleration and braking with a single pedal. With a range of advanced driver-assistance capabilities and intelligent emergency braking systems, the Ariya is meticulously crafted to prioritize your safety and that of those sharing the road with you.
Embracing Sustainability
Beyond its remarkable performance and futuristic aesthetics, the 2024 Ariya presents numerous advantages compared to conventional gasoline-powered cars. One of the most significant perks of electric vehicles is their zero tailpipe emissions, significantly benefiting the environment in comparison to gasoline-fueled vehicles. Additionally, electric cars demand less maintenance due to their fewer moving components and the absence of needs like oil changes or tune-ups. As a fully electric vehicle, the 2024 Ariya actively participates in curbing carbon emissions and reducing its ecological impact. Opting for the Ariya means joining a movement toward a more sustainable future.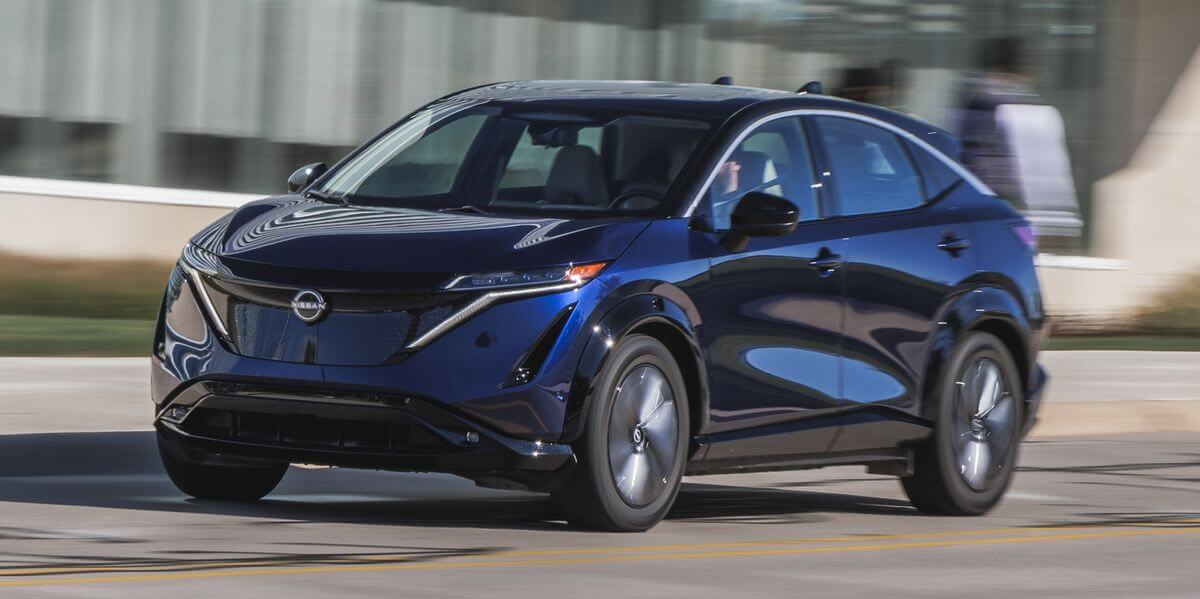 The Future is Now
The 2024 Nissan Ariya Electric SUV goes beyond being just a car; it embodies Nissan's commitment to innovation and a future focused on sustainability. Its bold design, outstanding performance, cutting-edge technology, and environmental dedication position the Ariya as a symbol of advancement within the automotive sector.
When you're in search of a new Nissan around the Charlotte area, visit Gastonia Nissan to explore our newest models firsthand. The 2024 Ariya Electric SUV epitomizes our commitment to delivering revolutionary vehicles that surpass expectations. Stop by our dealership to discover more about the Ariya and test drive an EV today!
Welcome to the future. Welcome to the 2024 Nissan Ariya Electric SUV.