2021 Nissan Armada
The Nissan Armada is a modern three-seater SUV with excellent capabilities and a distinctive appearance. It will get a larger touchscreen infotainment system than before by 2021 and offer customers several class-leading driver assistance technologies. Better looks and functions are part of a kind of rebirth. for Nissan and will be featured in many of the company's models in the years to come. The 2021 Nissan Armada competes against the Chevrolet Tahoe and GMC Yukon.
Trims to Choose from at Gastonia Nissan:
The 2021 Nissan Armada is available in the following five trims:
Platinum
SL
Midnight Edition
SV
S
As the name sounds, the Midnight Edition is a blacked-out trim and it is brand new for the year 2021. The SL trim is the best value-for-money trim in the above lineup. Available drive options for the Armada include RWD (Rear-Wheel-Drive) and 4WD (4-Wheel-Drive).
Exterior Appearance:
The 2021 Nissan Armada Platinum comes with brand new headlight housings with LED daytime running lights and LED headlights. The design visible here ensures that it is not confused with other vehicles. The fog lights have gloss black trim, and this is the first time Nissan is new, the company logo is visible on the company's product. A huge new front grille can be seen on this SUV, and the simulated skid plate design can be seen here as well. This new design is very attractive to the 2021 Nissan Armada. Clear and crisp body lines. It can be seen on the hood. There is new fender work on the side and the 22-inch alloy wheels in gunmetal are visible here. It feels good to see the V8 insignia on the Platinum's side too. elegant look here. There is a step on the side to easily get into the three-wheeler SUV. A low rear roof spoiler is visible above the license plate along with the Armada name. The new taillights look good.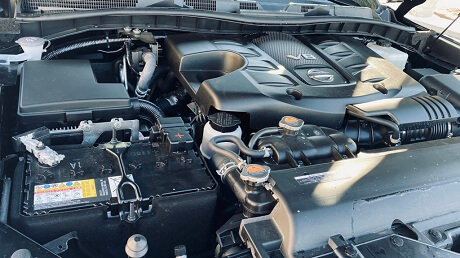 Engine Details and Performance:
Anyone who saw or drove the previous Armada will love the fact that the performance has been increased for 2021. A monstrous 5.6-liter V8 with 400 horsepower and 413 lbs.-ft of torque is available here, and both values are higher than before (390th). PS & 394 lbs.-ft) This engine can accelerate the vehicle from 060 mph in 5.8 seconds. It's paired with a smooth 7-speed automatic transmission. Although the Nissan Armada weighs 6,000 pounds in 2021, the acceleration figures are remarkably impressive. a towing capacity of 8500 lbs.
Interior Appearance:
Expect to see soft materials on the 2021 Nissan Armada Platinum's door panels. Huge door pockets are black, and the interior features include:
Digital Rear View Mirror
Dual Climate Control
3-inch infotainment system with Apple CarPlay and Android Auto
Heated and Ventilated Seats
Hidden Wireless Charging
Full electric-assisted seats for driver and passenger
Lots of Storage Space
Trailer Control
Memory Seat Settings
Spacious Soft Touch Armrest
Drive Mode Selector
Sunroof
Contrast Stitching on Steering Wheel
Safety Features:
Features in the Nissan Safety Shield 360 include:
Automatic Emergency Braking with Pedestrian Detection
Lane Departure Warning
Rear Cross-Traffic Alert
Blind Spot Monitoring
Rear Automatic Braking
For more information about the 2021 Nissan Armada and where to purchase one, visit Gastonia Nissan's website: https://www.mygastonianissan.com/nissan-armada-gastonia-nc/